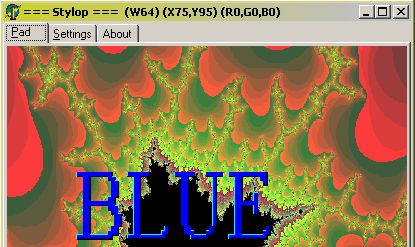 mouse X into note number.
mouse Y into velocity.
Mouse Wheel into Controller 1 (Modulation wheel)
Red into controller 2 (Breath Control).
Green into controller 3.
Blue into Controller 4 (Foot Pressure).
Colors are taken from a user selectable bitmap file, as if it were a music score
The software is contained within a single zip file, unzip it and copy it to any place you see fit to run the program from.
An example Nord Modular patch is included in the zip.